Today is Friday, February 26, 2021!
2021 Real Estate Tax Bills were mailed out on, Tuesday, February 23, 2021 with a due date for the 2% discount period by April 30, 2021. Full amount of your bill is due by June 30, 2021, and a 10% penalty will be added if bill is paid after July 1, 2021.
If your bill is not paid in full by December 31, 2021, it will be forwarded to the county for tax lien.
Please call Wanda Prosser at 302-379-2276 if you do not receive your tax bill by March 23, 2021.
Have you taken the Survey yet??  West Grove Borough is currently working with Theurkauf Design & Planning to update the Comprehensive Plan for the Borough.  Help shape the future of West Grove Borough by participating in the survey!!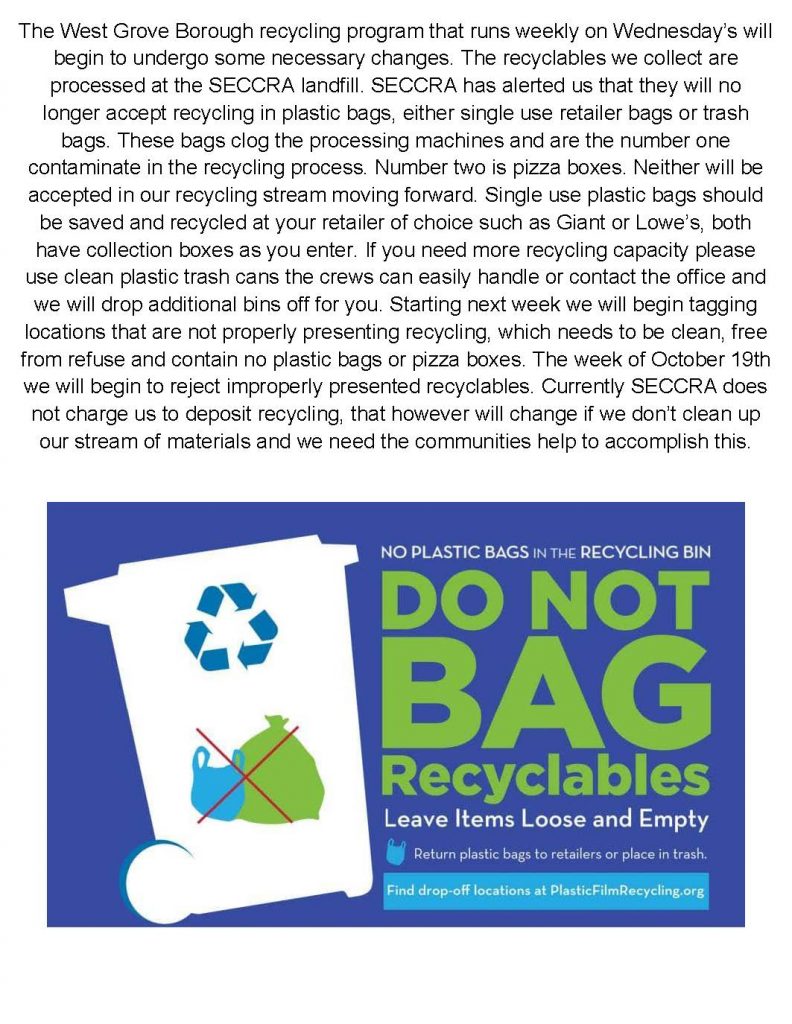 _____________________________________________________________________________________
For assistance with food and clothing during this pandemic, the below places are available to our community.  Please click on the links to bring you to their websites for information regarding the dates and times for pick-ups.
Avon Grove Church of the Nazarene                  West Grove United Methodist
COVID-19 Update – June 8, 2020:
Borough Administrative Offices are now open to the Public.
The emergency management team for the Borough is in constant contact with the proper authorities and updates to the emergency plan will be communicated through both Facebook and the Borough website as things evolve.
Please continue to follow the recommended procedures to protect yourselves and others from contracting and spreading the virus which includes social distancing and frequent washing of hands and use of sanitizers.
El equipo de gestion de emergencias del distito esta en contracto constant con las autoridades correspondientes y las actualizaciones del plan de emergencia se comunicaran a traves de Facebook y el sitio web del distrito a medida que las cosas evolucionen.
Continue siguiendo los procedimientos recomendados para protegerse y proteger a otros de contraer y propagar el virus, que incluye distanciamiento social y lavado frecuente de manos y uso de desinfectantes.
The Chester County Commissioners unveiled the results of Return on Environment, a new study quantifying the economic value of protected open space in Chester County.  The report found that 86 percent of homes in Chester County are located within a half-mile of protected open space, and that these homes derive an average of $11,000 in additional value because of their proximity to open space.  Without the support of municipal leaders, this widespread success in open space preservation would not be possible.  Click on the below link that highlights the findings of this study.
Return on Environment – The Economic Value of Protected Open Space in Chester County, Pennsylvania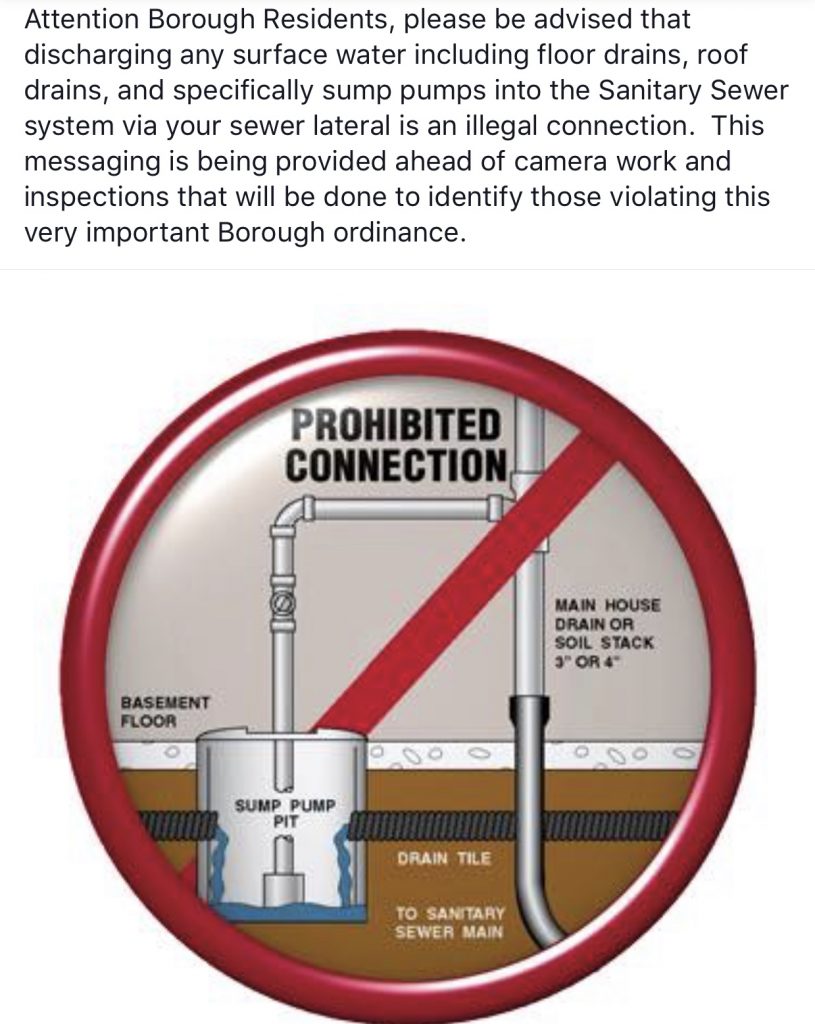 _______________________________________________________________________________________
Common Elderly Scams – please click on the below link for information pertaining to folks scamming the elderly
Common Elderly Scams
Senior Living Help – An organization that provides senior living assistance to the elderly.  Please click on the below link for more details.
Senior Living Help
Click on the below link for upcoming events at The Kennett Area Senior Center
Kennett Area Senior Center
Chester County 911 has implemented a new program called Smart911 where you can give your information ahead of time to help if you ever need to call them.  Sign up today because every second counts.  Smart911
Reducing Stormwater – Please click on the below links for ways to reduce stormwater.  If you have any questions, the DEP's Bureau of Water Management can be reached at 717-772-5661 or www.dep.state.pa.us:
Car Wash   Fertilizing   Oil Change  Pet Waste
 New Recycling Guidelines for the local landfill:
  The local landfill has a new company that removes the recycling from the landfill and the guidelines for what they will accept are different from the old company.  Please click on the below link to see the full list.
New Recycling Guidelines

Recycling is Alive in Chester County – Please click on the below link to read updated information from the County:
Also for your recycling needs!
– Sycamore International is based right in West Grove on Baltimore Pike, and we are able to recycle essentially "anything with a plug." If it has electricity run through it – we can recycle it.  The only exceptions with regard to materials accepted are CRT Televisions/Monitors (the old big televisions), paint, light bulbs, nuclear/bio-hazardous waste, and compressed gas/chemicals. As technology recyclers, we primarily follow a model of refurbishment and extension of life of older equipment. This model is far more environmentally friendly than other recycling methods, as most energy consumed by technology is in its creation. All e-waste processed through our facility is recycled according to R2, ISO 9001, ISO 14001, and OSHAS 18001 standards.  Click on the below link for more information regarding Sycamore International.
Sycamore International Website

Electronics Recycling now FREE for Individuals:  Because of changes in market conditions, SECCRA is now able to accept your electronics for recycling at no charge. We are extending this to all residents in our service area. However, this does not include groups or companies, so fees may still apply to those entities. We are accepting them during our normal business hours at our landfill at 219 Street Road, West Grove PA. They can be reached at 610-869-2452.
Did you know West Grove has public transit?
ChescoBus stops at West Grove Borough Hall and will take you to other popular places in Chester County such as Kennett Square, Longwood Gardens and West Chester. Learn more at
www.chescobus.com
.  Did you know Seniors ride free on ChescoBus? Seniors age 65 or over with proper identification can ride free at all times. Learn more about ChescoBus's stops at
www.chescobus.com
.  Ever wonder what that green bus is riding through town? It's ChescoBus, Southern Chester County's only public transit service. To learn more about it visit 
www.chescobus.com
.
_____________________________________________________________________________
Please be sure that the Borough Office has your updated phone number.  With a lot of people these days dropping their landlines and using their cell phones as the main number we may not have the correct phone number to reach you in case of an emergency.  If you have recently changed your number or only use your cell as your contact number, please email Trisha at administrator@westgroveborough.org with your updated number.  Thanks!
The West Grove Borough Public Works Department is now picking up TV's for a fee of $20.00 payable in advance; just give us a call at 610-869-2792.
Old Working Refrigerators or Freezers Disposal – PECO will give you $50 for old working refrigerators or freezers. To schedule, go to www.peco.com/Smartideas, or call 1-888-5-PECO-SAVE (1-888-573-2672). Program funding is limited. Participation will be on a first-come, first-served basis until funds are exhausted.
PECO-An Exelon Company
Ready Notify PA has been updated.  Click on the below website in order to update your email or phone number to receive these notifications.
www.readychesco.org
Safe Digging is no Accident! – Know what is below! – Dial 811 before you dig!
Brochure        Safe Digging        PA One Call
______________________________________________________________________________________
UPCOMING  LOCAL EVENTS:
Below is a few website's to local events in West Grove and surrounding areas:
http://www.americantowns.com/pa/westgrove/events
http://www.avongrovelibrary.org/
http://www.garageyouthcenter.org/west-grove.html  
http://www.kreutzcreekvineyards.com/events.html
https://www.phillyfunguide.com/
https://www.kennettseniorcenter.org
Borough of West Grove Stormwater Management Ordinance No. 2014-03:  The West Grove Borough Council adopted the Stormwater Management Ordinance No. 2014-03 on Wednesday April 2, 2014.  Please click on the following links to accept a copy of Ordinance NO. 2014-03 and a copy of the Appendices that are also a part of Ordinance.
Rain Check – Reducing Stormwater Runoff
Pennsylvania Department of Environmental Protection requires all Government Offices to post a fact sheet regarding pool and hot tub discharges.  Please click on the link for more information:   PADEP fact sheet on pool and hot tub discharges.
Who Are Your Elected State and Federal Officials: The League of Women Voters of Chester County maintains a Legislative Directory for both State and Federal officials. If you are not sure what districts you are in, the Municipality District Guide will help you determine your correct districts according to the town you live in.
Are you planning on selling your property? – If so, the Borough of West Grove adopted an ordinance that a Transfer Inspection must be done prior to settlement.  The forms can be found on our website under Borough Information and Forms & Applications.  You will need to print the Transfer of Property Application, the Transfer of Property Inspection List and the Sewer & Water Certification Form.  The inspection is scheduled about one month prior to settlement to allow time in case of failing the inspection.  Please follow everything on the Inspection List because that is what our Inspector will be inspecting.  The Sewer & Water Certification is done a day or two prior to settlement so we can check the meter and get a reading so the sellers are billed for the water they have consumed before moving.  If you have any questions, please call Trisha or Greg at 610-869-2792.  Thanks!
Are you planning on renting your property? – Have you decided to rent your house?  If so, the Borough of West Grove adopted an ordinance that any property used as a rental in the Borough of West Grove must have a Rental Inspection completed prior to the tenant moving in.  The forms can be found on our website under Borough Information and Forms & Applications.  You will need to print the Residential Application Form, Page One,  and the Residential Application Form, Page Two.  The inspections are done on Monday mornings and Friday afternoons.  The inspection is required once a year.  If you have any questions, please call Trisha or Greg at 610-869-2792.
Below are some websites for local farmer's markets:  
Chester County Farmer's Markets